Greenses Field
Google aerial view of the area known as the Greenses (or Cowe) Field.
Hover image to enlarge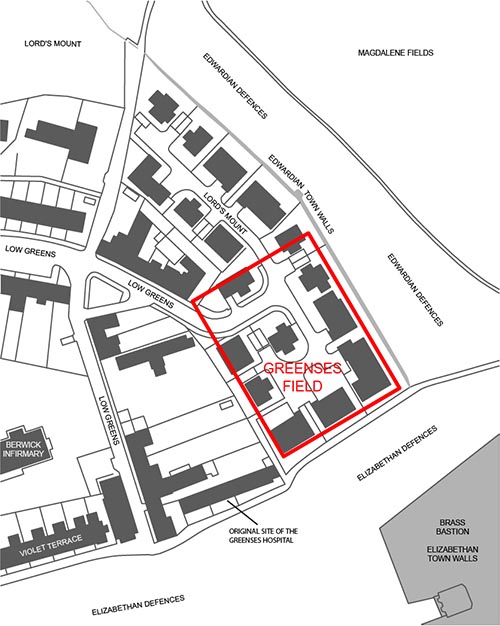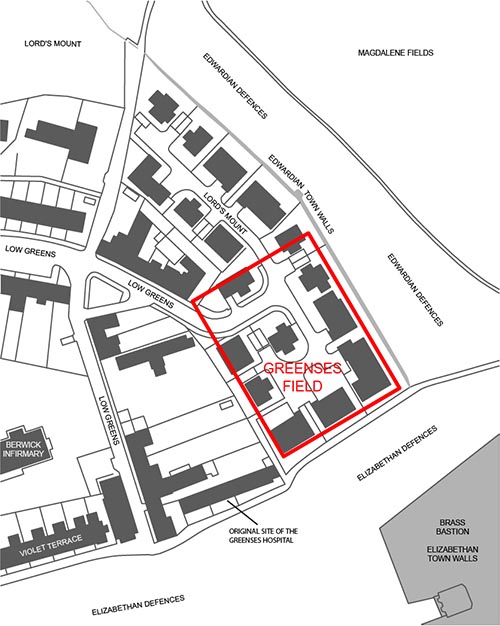 Overlay map view of the undersize Greenses (or Cowe) Field at the bottom of the Low Greens.
Hover image to enlarge
Although not ideal and a bit undersize, the Greenses (or Cowe) Field, located at the bottom of the Low Greens, was used mainly as a practice pitch.

Restricted in width by the Edwardian Walls and defensive ditches to the north-east and housing to the south-west, the approximate pitch dimensions would have been 63 x 79 yards (minimum required 50 x 100 yards).

Berwick Rangers had made an approach to the Berwick Cricket Club for use of their ground for matches, but as a newly formed club they could not afford the rent. However, local businessman and fish merchant Peter Cowe stepped in and offered the use of the stubble field in the neighbourhood of the Greenses Hospital.

Only one official match, the first ever, was played on the Greenses Field by Berwick Rangers when they took on a team of fishermen called the Royal Oaks, who also shared the ground, on 16th February 1884. Berwick Rangers won the match by one goal and "two tries" to nil. Subsequent matches were played at The Stanks, just a stone's throw away.

The ground later became known as the Bull Stob Close and was used by the Border Swifts, a team from the Castlegate area of the town.

The area was then used as the location for an infectious diseases hospital before being requisitioned by the military during World War Two.

After the war it became the Lord's Mount textile mill (Roberts Mill).

On the mill's demise, the field was turned into allotments and used as such until the present-day houses were built.


A view of the Greenses (or Cowe) Field taken from the top of the Brass Bastion. June 2014.
Hover image to enlarge